Al and Diane East have been serving quality food with a side of friendly service in Cincinnati for thirty years. At their current location for 17 years, they embrace the family atmosphere, where their son Dana is the daily operational manager. You'll see all three of them going between the kitchen and the dining room, ensuring everyone feels welcome and nourished by the quality food. The Easts have been in the restaurant business for decades, then founding Diane's Restaurant in 1984. The original Diane's Restaurant on Court Street served the judicial and business professionals consistent, quality food with a friendly smile. Wanting to build long-term, family relationships with the customers, the East family moved to the Westside of Cincinnati. Diane's Restaurant is known to many on the Westside of Cincinnati as the gathering place for friends and family. At Diane's, family and friendship is more than a slogan – it's the reason for being.
Al shares, "I've seen families eat here for years, kids grow from their high chairs, and families return week after week, year after year. I enjoy watching alongside parents as their kids grow. Heck, I've even hired a few that used to come eat as kids!"
More telling than words, it's not just the customers who keep coming back to enjoy Diane's.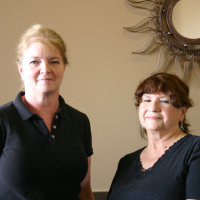 Meet Phyllis and Pat.
Still serving food with a smile now, both of them have been with Diane's Restaurant since before moving from Court Street. In a day when servers come and go every month, it's a testament to the friendly, welcoming atmosphere that these two have continued to call Diane's "home." It's been said that the true test of a restaurant is how long people keep returning. At Diane's Restaurant, they've passed this test with flying colors.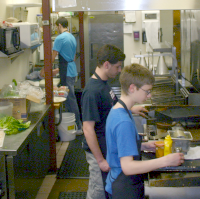 There are more stories about family, friendships and good food from around the Westside.
Like the couple who met, married, and still come daily
Then there's the family of one of the kitchen staff
And don't forget about the bridge players who call Diane's home
Share your Diane's story with us!